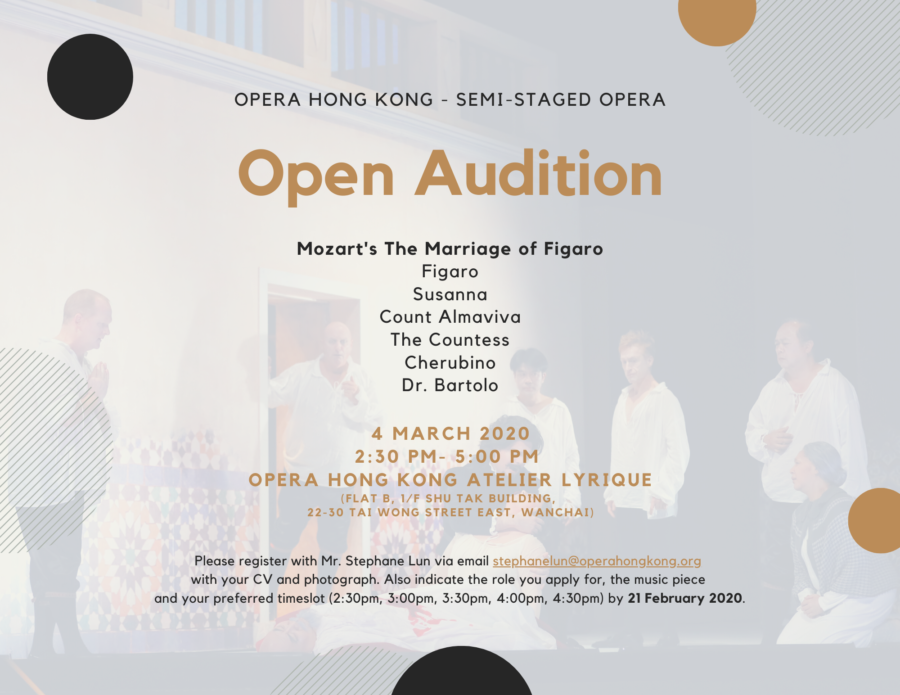 Opera Hong Kong will be presenting Mozart's The Marriage of Figaro on 22 – 23 August 2020, and the following roles are now open for audition:
ROLES OPENED: Figaro, Susanna, Count Almaviva, The Countess, Cherubino and Dr. Bartolo
AUDITION DATE: 4 March 2020 (Wednesday)
AUDITION TIME: 2:30pm – 5:00pm
AUDITION VENUE: Opera Hong Kong Atelier Lyrique
Flat B, 1/F Shu Tak Building, 22-30 Tai Wong Street East, Wanchai
Applicant should be a Hong Kong resident or currently resides in Hong Kong. He/She should possess a bachelor's degree or above in music and has the experience of performing a lead role presented by any organizers. Applicant should prepare one of the pieces sung by the characters in the opera for audition purpose. Accompanist will be provided.
Interested parties please register with Mr. Stephane Lun via email (stephanelun@operahongkong.org) together with your CV and photograph. Please indicate the role you apply for, the audition piece and your preferred timeslot (2:30pm, 3:00pm, 3:30pm, 4:00pm, 4:30pm) by 21 FEBRUARY 2020.